Before and After Dental Photos - Smile Makeovers Glenview, IL
Crowns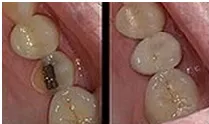 In this case, the picture on the left shows the lower right bicuspid has an existing amalgam filling and a fracture on the lingual surface, (by the tongue). The picture on the right shows the tooth restored with a porcelain-fused-to-metal crown. The amalgam filling has been removed and the tooth was prepared for a full crown to fit over it. The crown restores natural tooth function and appearance.
Composite


Dr. Graber can remove old leaky amalgam fillings and replace them with tooth colored composite. Composite allows the tooth to be filled and protected without causing grayness and staining, (also known as an "amalgam tattoo").
Bridge
Bridges can be used to enhance your smile, restore function and replace missing teeth. This photo shows a combination of a bridge for the missing tooth and veneers on the front teeth.
Bonding

In this case, composite material has been added to each of the teeth to make the teeth appear more aligned and even out the sizing. This process is called "bonding". As you can see, the shading has been matched and blends perfectly with the patient's natural tooth color. Bonding is an easy procedure for the patient and there is little or no pain involved.
Teeth Whitening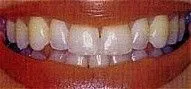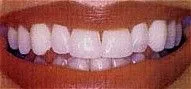 This patient had moderate staining on the upper teeth. The patient pre-treated their teeth with an at-home whitening system and then had a one hour-long in-office whitening session. Pre-treating the teeth with an at-home whitener is not necessary, however, this patient had amazing results with using a combination of both.
Veneers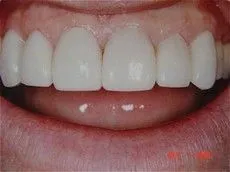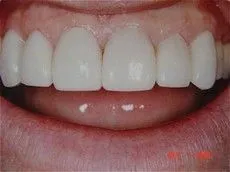 The photo above shows both size discrepancies and discoloration of the patient's teeth. In order to prepare them for veneers, the teeth are taken down slightly along the edges and front surfaces. This allows the veneers to be placed over the front of the teeth without looking bulky or protrusive. In this case we did six teeth, (back to the cuspids), which, as you can see, improved the patient's smile dramatically.
Dental Implants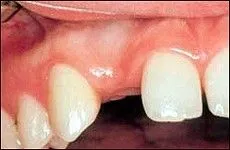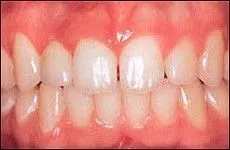 This patient had their right lateral incisor replaced with an implant and crown. In this instance because of minimal bone in the area the tissue above the tooth has a slightly darker tone. We could have grafted bone into this area, but the patient did not find the discoloration objectionable so we did not do the additional procedure. We always listen and involve patients in their treatment decisions.